Saturday Tours
The EFA 2023 in partnership with Toms Travel Tours is offering two tours on Saturday, August 19, to explore Amsterdam and its surroundings.
Toms Travel Tours takes care of all aspects of the tours, including the booking. Please use the button below to book your tour.
Option 1: Cycling Tour of Amsterdam City Center (14:00-16:30)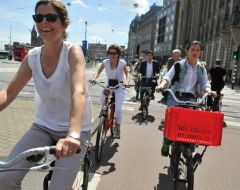 Exploring Amsterdam by bike is a great option for active people who love cycling, and are experienced in riding a bike. Your private cycling guides will collect you from the VU main building and take you to – and around – Amsterdam's most beautiful, well-known and lesser-known sights, such as the canals and Jordaan, Museumplein, Prinseneiland, and more.
Price 60 €/per person.
Option 2: Tour to the famous Zaanse Schans windmills (14:00-16:30)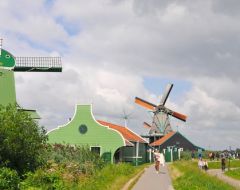 You will be collected at the VU main building and after a 30-minute bus ride, you will arrive at the famous historic windmills of the Zaanse Schans. You will learn about The Netherlands and the design and use of windmills for water management and more. You will explore the inside of a centuries-old working windmill and get to taste some chocolate and delicious Dutch Gouda cheese.
Price 60 €/per person.