Finance+Humor
To celebrate its 50th-anniversary meeting, the EFA  2023 will be offering an optional Finance+Humor program.  This program focuses on the effective use of humor when communicating finance ideas to the general public.
To this end, we have invited two rising star standup comedians with strong academic backgrounds: Dhaya Lakshminarayanan and Sammy Obeid. Together with their long-term collaborator, finance professor David Stolin, they will be offering three activities to participants wishing to develop their ability to reach a non-specialist audience through humor. The conference and its humor-based activities will be commemorated through a documentary directed by the award-winning filmmaker Andra Tévy.
watch excerpts of Dhaya's and Sammy's conversations with
Jonathan Berk (Stanford),
Ivo Welch (UCLA),
Lauren Cohen (Harvard),
Mara Faccio (Purdue),
Albert Menkveld (VU),
Vikas Agarwal (Georgia State), and
Diego Garcia (U Colorado).
The Finance+Humor program
"Using Humor To Communicate Finance Ideas" workshop (Wed.) | 16:30-18:15
Wednesday 16 August, 16:30-18:15
Speakers: Dhaya Lakshminarayanan, Sammy Obeid, and David Stolin

The workshop will provide an overview of prior work of the speakers on communicating finance ideas through humor and share advice for doing it in your research outreach and teaching. During the workshop we will also ask participants to propose and vote on  a specific finance topic they would be interested in communicating through humor and together develop ideas for creating a humorous educational video on this topic, to be produced after the conference ends.
"Explain It To a Comedian" research outreach interviews (Thu. and Fri.) | Apply by June 30
Thursday to Friday, during conference
Interviewers: Dhaya Lakshminarayanan and Sammy Obeid

This is an opportunity for a novel form of research outreach, through a light-hearted comedian-led interview. Each conference participant can propose one recent research paper that they (co-)authored.  The selected papers will be chosen based on their potential interest to a non-specialist public, while aiming for a diversity of topics and interviewees. The interviews will be professionally filmed in a recording studio on VU premises, and each participant will receive a video recording of their interview, to use as they wish (footage from the interview sessions will not be used for any other purpose without the participant's ex-post permission). They will also receive input and feedback from the Finance+Humor team. Those who participate in these interviews will be eligible to be interviewed as invited guests on Saturday's "Finance Meets Comedy" talk show, described below.
Wish to be interviewed?
Please apply to be interviewed at the below link. Priority will be given to responses received by June 30.
Wish to see examples?
Examples of previous interviews with finance and economics researchers conducted by Dhaya and Sammy are here and here
"Finance Meets Comedy: A talk show" (Sat.) | 13:30-15:30
Saturday August 19, 13:30-15:30
Interviewers: Dhaya Lakshminarayanan and Sammy Obeid 
The format of the talk show is similar to popular TV comedy talk shows such as "The Tonight Show" or "The Graham Norton Show," but instead of pop culture celebrities, it will feature finance researchers as guests. Researchers who participate in the "Explain It To a Comedian" interviews on Thursday or Friday will be eligible to be  interviewed on the talk show. 
The talk show will be open to conference participants as well as to the wider public. It will be filmed for possible dissemination in video and/or film form. Audience members who do not wish to be filmed will be invited to sit in a specially designated area.
We care about your privacy
All filming will fully respect conference participants' privacy. Anyone who does not wish to be filmed during the group workshop or the talk show will be seated in a specially designated area. Footage recorded during individual interviews will not be used without the interviewee's ex-post permission. Any filming in common areas outside of the Finance+Humor activities will not feature close-ups nor pick up on conversations.
Team profiles

Dhaya Lakshminarayanan
Dhaya Lakshminarayanan is a winner of multiple comedy awards and holds bachelor's and master's degrees from MIT, where she has also taught on the MBA program. Dhaya has interviewed such prominent finance researchers as Vikas Agarwal (Georgia State University), Mara Faccio (Purdue University), and Ivo Welch (UCLA).
Sammy Obeid
Sammy Obeid, widely known as host of the hit Netflix series "100 Humans", is a cum laude UC Berkeley graduate in business and applied mathematics. Sammy has interviewed such prominent finance researchers as Jonathan Berk (Stanford University), Lauren Cohen (Harvard University) and Diego Garcia (University of Colorado).
Andra Tévy (cinematographer)
Andra Tévy is known for her cinematography work with leading directors, including Tony Gatlif, Abdellatif Kechiche, and Nicolas Philibert, as well as the legendary documentary filmmaker Frederick Wiseman. She has also received numerous awards for films that she wrote and directed.
Emilia Bunea (executive producer)
Dr. Emilia Bunea, CFA is a management educator and founder-CEO of Ed.movie Inc. She holds an EMBA from the University of Washington and a PhD in Management from Vrije Universiteit Amsterdam. Dr. Bunea previously held top executive roles in the finance industry, most recently as CEO of an organization with 2 million customers, and is currently a board member at an asset management company.  Emilia has published both academic and practitioner articles on leadership, and teaches a "Leadership for finance professionals" course to business students and executives.
Cláudia Custódio (Finance+Humor program co-ordinator)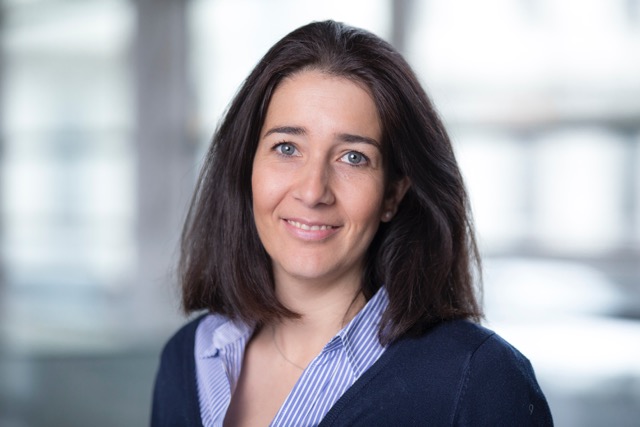 Cláudia Custódio is an Associate Professor of Finance at Imperial College Business School in London. She holds a PhD from the London School of Economics, and has taught at Arizona State University as well as at NOVA School of Business and Economics in her native Lisbon. She is a research associate at the FMG and the ECGI, and a CEPR research fellow. Cláudia's focus is Corporate Finance and her work has been published several times in academic journals such as the Journal of Finance, the Journal of Financial Economics and the Review of Financial Studies.  She has a long-standing interest in humor.
David Stolin (Finance+Humor program co-ordinator)
David Stolin is a finance professor at TBS Education and co-founder of Ed.movie.  He holds a Ph.D. from London Business School and has published in The Journal of Finance, Journal of Financial and Quantitative Analysis and Management Science, among others. David has been collaborating with Dhaya Lakshminarayanan and Sammy Obeid for several years. He has led work on bringing professional-grade humor to business education which won awards from the Academy of Management, the Financial Management Association and QS-Wharton's Reimagine Education, and he has spoken about this work at AACSB, Association of MBAs and SXSW EDU conferences.
Production company
The Finance+Humor program at EFA 2023 and the associated documentary will be produced by Ed.movie, which specializes in drawing on the power of humor and/or cinema to produce engaging educational content on business topics. Ed.movie previously collaborated with VU Amsterdam and Andra Tévy on a dramatic film which charts the leadership journey of a corporate CFO and has been used as a case study at business schools and corporations around the world.